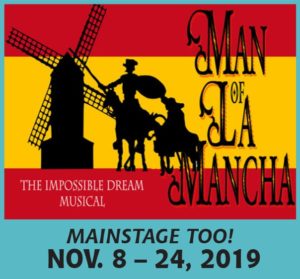 Last Chance to Purchase Tickets is October 27th!
Hilltop Hospitality invites the curious to…
MAN OF LA MANCHA – The adventures of a delusional Spanish knight who sallies forth on a quest to restore chivalry. "Too much sanity may be madness — and maddest of all: to see life as it is, and not as it should be."
Join us on Sunday, November 10th for the 2:00 p.m. matinee at Fountain Hills Theater's Mainstage Too! Tickets go on sale beginning Sunday, October 13th and will be available:
Between Services on Sunday, October 13th, 20th, and 27th.
In the Church Office, Monday-Thursday (8 a.m. – 3 p.m.)
The discounted group price is $30, a savings of $5. 30 tickets on-hold. Payment must be made no later than Sunday, October 27th.
Contact Jane Allen, Coordinator at 907-538-3223 or call FHPC church office at 480-837-1763.