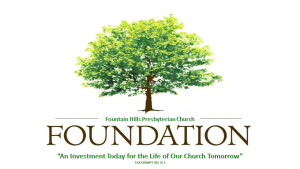 POSTPONED UNTIL FURTHER NOTICE!
FHPC Foundation Annual Meeting
Planned for Thursday, March 19 | 11 a.m. – 1 p.m. | Fellowship Center
All FHPC members and friends are welcome to attend! We will discuss the Foundation Annual Financial Report and have election of the Trustees.
Guest Speaker: Rachel Egboro, Philanthropic Advisor, AZ Community Foundation.
Foundation Board of Trustees
Gifts given to the Foundation are distributed to the church for current needs or special items. The Foundation receives cash gifts at any time or bequests through wills or trusts at the time of death of the person wishing to insure the future prosperity and continuation of the church.
Since 2014, more than $50,000 has been distributed for various church projects. Some include: upgrades to the Biblical Garden, Youth Ministry, sunscreen for children's playground and various audio upgrades.
Any member of the Foundation board can answer questions you might have about setting up your final documents and you are always welcome to attend any Foundation Board meetings.
The FHPC Foundation is registered as a 501[c][3] non-profit organization.
Contributions are tax-deductible to the extent permitted by law.
The Foundation's tax ID number is 46-2970452.