Columbarium & Wall of Remembrance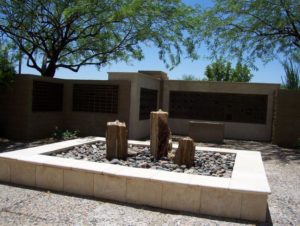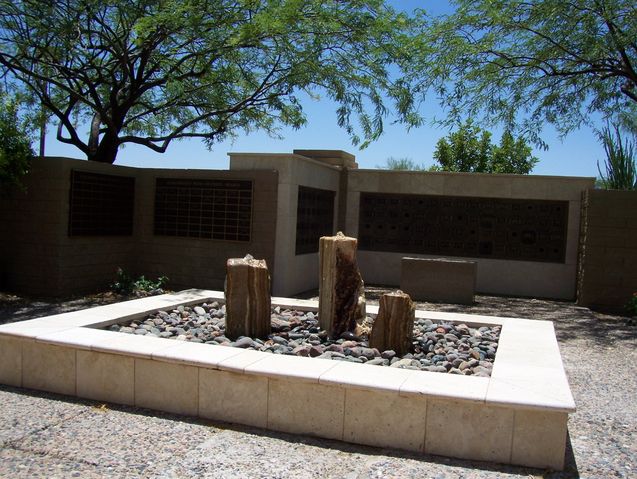 Columbarium
The FHPC Columbarium was dedicated in 1990. Following an ancient custom to have burial grounds near the Church, our congregation has provided a Columbarium on our Church Campus. It is a place for cremation urns, a final resting place for the mortal remains of members and friends.
Our Columbarium is located in the shadow of the Memorial Tower near the entrance to the Sanctuary. High above, the Carillon rings out the Westminster Chimes and the beautiful hymns of faith. Within the Columbarium area is a waterfall dedicated to the Elders and Deacons of this Congregation and Memorial benches, providing a lovely place for prayer and mediation. Surrounding the Columbarium is our Biblical Garden with plantings mentioned in our sacred Scriptures.
Our Church is proud to have the Columbarium on our Campus as Our Witness To The Resurrection. Our Columbarium is managed by the Columbarium Trustees, a committee of our Church Corporation. A Trust Fund insures proper maintenance and perpetual care of the area. Use of the Columbarium is not restricted to members but is available to the community.
The cost for each niche subscription is $700 which includes interring the urn and the uniform plaque of recognition. For more information about our Columbarium or to subscribe for a niche, visit or call our Church Office, 480-837-1763.
Wall of Remembrance The Columbarium Trustees recently added a Wall Of Remembrance within the Columbarium. This is in response to those who have scattered the remains of loved ones, yet wish to have a place of remembrance. Others have requested a Fountain Hills remembrance for loved ones buried elsewhere. The Wall Of Remembrance, a specially cast bronze plaque, holds individual name plaques for each person, along with dates of birth and death. Each plaque is cast in bronze to match the Wall of Remembrance.
The cost for having a remembrance plaque placed on the Wall Of Remembrance is $325.00 including the casting. For more information about our Wall of Remembrance or to subscribe for a plaque, visit or call our Church Office, 480-837-1763.
Columbarium Trustees
Jack Reynolds, Elder from Session
Matt Jefferson & Althea Halchuck, Class of 2020
George Holtan & Dawn Lau, Class of 2021
Bob Lull & Jack Morris, Class of 2022